USA: How Culture Drives Vision and Purpose
Keeping A Vision Alive with Dr. Shahrzad Nooravi…
Here is a synopsis of the iLumn8 Open House Discussion hosted on March 25th, 2022, with Guest speaker Dr. Shahrzad Nooravi. Dr. Nooravi shared with us some strategies for building the kind of culture around us required to keep our big visions alive and growing. She also shared ways to identify and be the change we want to see in the world. These bits of wisdom are sneak peaks from her upcoming book A Powerful Culture Starts With You.
In our previous conversations, we have discussed the Leadership Choice Point, and the importance of creating a Yonder Star to guide us. A vision of what we want to contribute for the change we want to see in the world. This can be as global as ending hunger, or as local as advocating for a pedestrian crossing in our community. This is exactly what Dr. Shahrzad Nooravi and her community did, over a number of years, after realizing the danger to residents as they tried to dash across a busy road.
Yonder Star visions can often be a long game with many ups and downs. One thing all of these visions have in common, whether large or small, is that we cannot complete them alone. Dr. Shahrzad spoke about how we can keep a vision alive, AND continue to work on it through all the ups and downs of making change happen.
The Drive-It model
This is a model we can use with ourselves or others, to think through our ideas and gain clarity on where to start with our visions for a better world.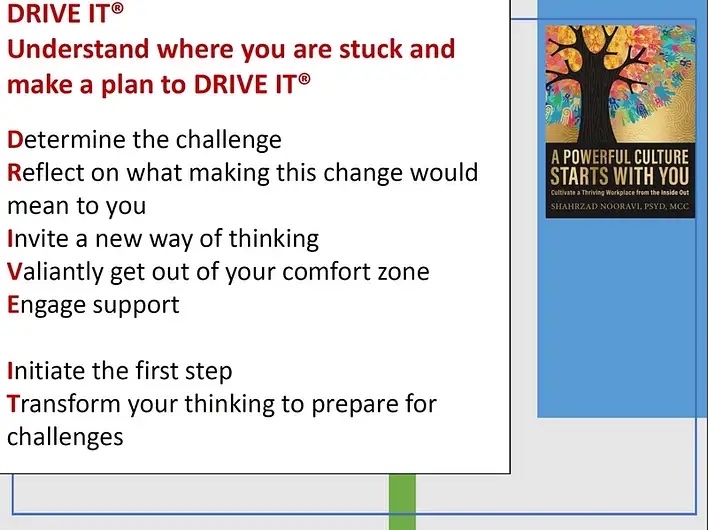 Often, our Yonder Star vision begins with something we notice in our community, or the world, that irritates us or even makes us angry. Anger is a clear indication that this is a problem we want to solve and can be the catalyst for starting the action required to make this vision a reality.
However, in order for us to take powerful action, we need to articulate and own the problem. From there we can imagine the change that needs to happen and what it would provide for our communities. Taking these first steps and committing to our vision kicks us AND the universe into action and we can lean into collaboration and support.
"When you decide to make a change the universe will conspire to help you."

Paulo Coelho
The importance of WE in Starting and keeping a vision alive.
Key to the process of keeping a vision alive is tapping into the WeFactor and embracing true collaboration. As mentioned earlier, we cannot achieve our big visions alone. Rather, we can surround ourselves with those who encourage us, contribute their expertise and lend assistance, PLUS all those willing to jump in and share our vision.
The act of inquiry helps initiate change.
"Change your questions, change the world"

Anne & Suzanne
When we ask better questions, we are better able to identify collaborators and our work gains momentum. This momentum and the support of others are vital in keeping the vision alive, and keeping us moving forward even when we may be losing hope.
In addition, we often have to initiate new ways of thinking, and get creative to work on and hold onto our big visions. We will learn new knowledge and skills, and the need to get out of our comfort zone. Inquiry, asking new and different questions, does all of this.
Keep being bothered by the things that are bothering you.
Particularly with Yonder Star visions that can become long-term, it's pretty easy to get complacent and become resigned to the problem. Staying bothered by what is bothering us is key. Otherwise we end up stuck with apathy, which can often show up when fighting for a long-term change.
Instead, reconnecting with the Yonder Star vision and our collaborators helps us stay intentional and even passionate about pursuing our vision, especially when things feel slow or feel like they won't happen in our lifetime.
Recognizing change when it comes.
Often, change comes little by little. Even when the entire vision has not yet been realized, the conversation expands, new collaborators emerge, and new energy revitalizes the vision. If we get fixated on the end result, we may miss the victories that come when small changes occur. This is particularly important with a vision that may take longer than our lifetime to fulfill.
It's important to set interim, reachable milestones with expectations that can be met as we proceed… so we can celebrate! If we only look at the final result as a victory, we most assuredly will get discouraged and quit. Celebrating the small wins contributes to the momentum and fills us with accomplishment and a sense of purpose along the way.
Get good at asking and receiving.
Give without expecting, receive without resistance.

David Belden, Professional Outsider

Most of us with big visions are much better at giving and contributing than we are at receiving. It might be that we don't feel comfortable asking for help, or we don't trust we will get what we need. Since we can't achieve our visions alone, we better get good at asking AND receiving. When we receive the contributions of our fellow collaborators, we multiply the impact and velocity of a vision becoming reality.
The Drive It model showcases the importance of new thinking and collaboration in keeping our visions alive. Getting out of our comfort zone and staying connected to what bothers us, aka, our vision, keeps us engaged. Imagining how our vision will make a difference and celebrating the small wins along the way, keeps us inspired.
Striving for our Yonder Star vision and continuing to become the person required to bring our BOLD Visions alive, becomes worthwhile.
---
THE iLumn8 ANNUAL SUMMIT is about bringing Vision-Focused leaders together to renew, regroup and collaborate. Leaders ready to move big ideas and big visions forward. Is the summit right for you? Click the links below to find out more.